Sailing Vacations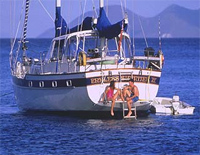 Welcome to sailing vacations in the Caribbean. We offer sailing vacations of private yachts in the Caribbean in areas such as the British and U.S. Virgin Islands, the Bahamas, the Leeward and Windward islands. Select from a list of Sailing yachts and catamarans in any of these locations.
Caribbean Sailing Vacations
A private sailing vacation on board a luxury catamaran or fully crewed sailing yacht (mono hull) offers you the ultimate opportunity to explore the most beautiful beaches and crystal clear blue tropical waters in the Caribbean. These sailing vacations offers the comfort and flexibility in choosing activities tailored to your special interest. Windsurf all day or relax for hours on a secluded beach.
The passionate traveler wants an extraordinary adventure for their vacation; we pride ourselves on knowing where to go, what to do, whom to do it with, and which craft to do it in. When it comes to a Caribbean sailing vacations or any other private yacht charter, there is "NO" consolation prize for booking cheap price. This is one vacation where saving $500 is not wise, unless it is a very valid saving. We have been in this industry for 48 years; our very livelihood depends on making right decisions.
Our product knowledge of each individual yacht and each captain and crew team is what we do best, and we believe our product knowledge is better than our competition. How to put together your private sailing vacation has revolutionized how everyone thinks today. As long as it is our clients who enjoy cutting-edge planning, we are delighted with this.
Caribbean Sailing Vacations on Yacht Zingara

Yacht Zingara is a crewed sailing catamaran operating in the Caribbean. A sailing vacation on yacht Zingara comes standard with an ultimate experience in luxury, style and spacious comfort. Caribbean Sailing catamaran yacht Zingara is one of the Caribbean's most luxurious sailing yachts, offering the utmost in equipment, comfort and privacy for her guests while yacht charting in the Caribbean.
Read more about Sailing Vacations on Zingara
Caribbean Sailing Vacations on Catamaran Breanker
A Sailing Vacation on Catamaran Breanker embarks from Tortolla BVI deep in the Caribbean. While on Breanker you will indulge in the luxury of being pampered by your crew and by Breanker's luxurious surroundings. A Caribbean sailing vacation on catamaran Breanker offers many options.
Whether you relax on the sun-drenched trampolines, lounge in the shaded cockpit or have a fun game on the beach with cocktail in hand, your cruise aboard Breanker will be the place to spend the best week of your life.
Breanker is one of three sister-ships which have become known throughout the Caribbean as a first choice in private charter yachts.
Your crew, Kristian & Marianne have now chartered for more than a decade. Marianne holds an International Yacht Master 3rd Degree license, and Kristian holds an International Yacht Master 1st degree license.
Read more about Sailing Vacations on Breanker