Sailing Vacations in the Winward Islands
GRENADINES
The Grenadine Islands all lie south of Saint Vincent and stretch nearly 55 miles towards Grenada. There are some 32 islands and cays in the chain; the most well known include Mustique, Bequia, Palm Island and Union Island. These are the islands that make up the Windward Islands, all south of St. Lucia.
St. Lucia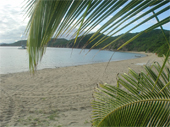 St. Lucia, 21 miles south of Martinique, has a mountainous interior covered in rainforest. There is a green parrot native to St. Lucia, but St. Lucia is famous for its 2 pitons. Petit Piton is just smaller than Gros Piton, which stretches skywards touching all the clouds 750 feet straight up. Once you have seen these 2 pitons, you will have them etched in your mind forever; there is no sight more impressive than these two towering mountains. We also found black beaches on St. Lucia; this was unique to snorkel in, something like a black swimming pool with crystal clear water. The local climate is wetter than most islands, and the weather is therefore unpredictable. For the sailor, St. Lucia is a must-do stop; all the facilities are provided on this island to support the largest yacht.  Expect excellent sightseeing, rent a taxi and have a local take you around for the day; this way you learn more about the island. Plus you could add a rain forest tour to this as well. Rodney Bay Marina is where most yachts pull into, so stop, relax and plan for a day of adventure. There are also a few good beaches but, on this trip, you are going to have so many beaches we can drop them for this day.
Marigot Bay
Here is one of the Caribbean?s hidden jewels, so stop here at all costs. This anchorage and marina has been developed a lot in the past 3 years, but she still retains that jungle feel when entering the commencement of the Bay. Wth a small kink in the passageway, you come to the marina, where quaint shops and restaurants are clustered.  I believe that an English admiral hid his fleet inside this anchorage when he was being chased by the French. To hide their masts, they tied palm fronds onto the mast to look like coconut trees, and the pursuing French sailed right on by; now that?s being smart. The Pitons are the most impressive towering peaks you will remember about St. Lucia.
St. Vincent
St. Vincent, a mountainous volcanic island, is just south of St. Lucia. The main attraction is the active La Soufriere volcano, which last erupted in 1979. To the sailor, Blue Lagoon is where we can get boat spare parts, but Blue Lagoon is gorgeous. On the shoulder across a few hundred feet of water is Young Island. At night, Young Island is lit by lights,and she looks magnificent. The sight of Young Island at night remains with me forever; it really is a fairytale sight. Lights run up and down paths which wind their way to cottages on this high hill. These lights seem to stretch to the stars. Blue Lagoon on St. Vincent is normally a starting point for most Grenadine charters, so pick up that extra bottle of good wine, any special cuisine and off you go. I count St. Lucia and St. Vincent as the beginning of the Grenadines. This is a 55-mile stretch of water, St. Vincent to Grenada, which has some 21 little islands to explore. Go out here and have fun.
Bequia
Bequia is 8 miles from St. Vincent and your first stop from St. Vincent. This is a great 8 miles to drag a lure (preferably a squid) because squid abound in these waters, making them natural food for marlin or any other large fish. Head for Admiralty Bay. Port Elizabeth, the major town in Bequia, is the shopping district with dockage for visiting ferries. Here the hotels, bars, restaurants, shops of all kinds and ?The Frangipani? on the beach all beckon the interested vacationer.  Bequia is one of the only places where it is traditional to harpoon 4 whales each year; this takes place during great celebration. They take to the water in a small open boat, harpoon (spear) in hand, and physically spear the selected whale, then hang on for dear life as the whale drags them through the water trying to get away. They take the whale to Petit Nevis, a little island off the coast of Bequia, for stripping. The Island provides a quiet safe anchorage, with crystal clear waters, a small town, with very relaxed beach bars, entertaining local folk and of course the local Rasta market where yachts restocks with some of the freshest fruits, coconuts and fish in the Caribbean. It?s an Island that will leave you smiling and contemplating about packing up your job and your house and moving there to live forever...
Mustique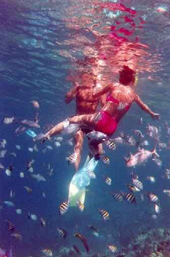 Here is a privately owned island which has been developed for the rich and famous. On any given night, you can go to Basil?s Bar and possibly see Mick Jagger, Raquel Welch or David Bowie.  Here you will find a few small shops and the quaint gingerbread houses. The Firefly is one of my favorite resorts/guest house/restaurant/bar owned by Stan and Elizabeth, so if it is a special hideaway you are looking for, there is no better than the Firefly. My wife liked snorkeling in and around Mustique. She says she liked seeing the turtles, stingrays and fish, plus the water was so nice and warm. It must have been crystal clear as well, or she would not venture in.  There is plenty to do on land in Mustique.
This sophisticated, world class, private Island is home to the rich and famous, with luxury Villas and restaurants situated on the Island it provides a once in a life time sneak peak into what it feels like to a celebrity. The landscape is as genteel as the Islands lifestyle, with green hills rolling into soft white sandy beaches which collide with turquoise waters and coral reefs. Keep your bathing suits on as the snorkeling is out of this world. Basil?s famous beach bar will make sure your pallet stays moist and your stomach full. The beauty and picture perfect setting this Island provides is dream world material and is a must see when visiting the Grenadines!
Canouan
The main settlement on Canouan is Charlestown Grand Bay, the island?s anchorage for visiting yachts and ferries. Canouan now boasts a connecting airport where many visitors fly in and out, so she has become a major island in this little chain.  Corbay, a sheltered anchorage, is great for diving and snorkeling. On the north side of the island is Maho Bay; not suggested to anchor here. On the south side is Friendship Bay and Glossy Bay. Only Friendship Bay has the great beaches. No longer is Canouan the sleepy backwater of yesteryear, as a huge resort was built on a large portion of the island complete with a casino and a golf course. This is another development made easy by the new airport bringing in fresh visitors each day.
Mayreau
The smallest inhabited island in the Grenadines, Mayreau can only be accessed by boats landing in Saline Bay, where there is a path to the village. Great beaches on the island of Mayreau include Saline, Windward and, by far the best bay, Saltwhistle. The windward side of Mayreau is one huge deserted stretch of beach; you could spend eternity exploring, swimming, tanning, building sand castles, or just relaxing. This Island is perfect for both a land and sea vacation, with some great spots to explore on land as well as in the water. The underwater world of this beautiful Island is breath taking and awe-inspiring, the colors of fish and coral intertwine and allow for an ecstatic snorkeling experience. The local folk are such humble, friendly people; they seem to always just smile. It's a happy place, and a place that will live fondly in your memories forever.
Union Island
Divided into the 2 villages of Ashton & Clifton, Union Island is underdeveloped with respect to tourism. Not itself a main tourist destination, Union Island?s yacht and boat day trips comprise much of the local economy, with the nearby Tobago Cays accounting for much of the yachting tourism revenue. But she too has a connecting airport that has also lifted her from being stagnant.
An Island packed with diverse cultures and a myriad of special celebrations. Union Island has a dramatic profile of ridges and peaks- the highest being mount Parnassus.
There is a great anchorage with beautiful spots for snorkeling and beach combing. With such interesting, friendly and hospitable people its easy to wind you clock back to Island time. The streets of Clifton, the main town, are bustling with people making their way through the eclectic alley ways and scrubby streets. There are great beaches to be discovered and many snorkeling spots to be explored...
Palm Island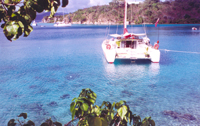 A tiny private resort of lush tropical plants and five lovely white sandy beaches, Palm Island used to be known as Prune Island. Here is the wonderful history of Prune Island, which is now called Palm Island thanks to Mr. John Caldwell, a man I knew and respected. After World War II, John and his wife were wanting to find their own islands and they passed Prune Island, which was thorny scrub, plenty of mosquitoes and swampy land everywhere. No one wanted this piece of earth so John paid the Government $250 for a 100-year lease. John then dove in to clean up this bog. At all the nearby islands, John would ask the locals for coconuts with shoots; this led to his nickname of ?Johnny Coconut?. The government had tried many times over to take the Island away from John, but he held onto it through thick and thin. John Caldwell passed away in 2003/4 without my knowledge, and his island, which the Caldwell children did not want, was sold for 5 million dollars. The private all-inclusive resort is the perfect secluded getaway today thanks to a man with vision. On the western side, Casuarina Beach is surrounded by turquoise blue water and safe bathing.
This Island provides the utmost seclusion; the natural beauty and tranquility are incomparable. Palm Island is unique in its own way, the perfect Robinson Crusoe Island, magnificent clear waters, palm trees and white sandy beaches, the ultimate beach bum paradise.
Petite Martinique
This island comes under the jurisdiction of Grenada and has a great little resort hideaway accessible only by water again, but this is as remote as any person can get. The snorkeling is brilliant, the bays turquoise with crystal clear water which is as warm as your body. Fishing and boat building are still the main occupations on Petite Martinique.
Petite St. Vincent
This little island comes under the jurisdiction of St. Vincent and is normally called PSV. A small privately-owned luxury resort of just 22 cottages rests between the green growth near the beach. This resort on PSV is quiet and secluded where guests get treated like royalty in quiet stone cottages. PSV is a haven of tranquility, well off the normal beaten track. This un-spoilt Island lies south of Palm Island. It is located well off the tourist mainstream, and can sometimes be best described by what is not there, no television, no airport etc. But there is a very private well run resort.  What the Island does offer, amid untouched nature, warm crystal-clear turquoise waters, windswept coconut palms and beautiful white beaches, is privacy.
Walking on the beach and looking back to notice that your footprints are the only ones in the sand makes you sense that this Island is your own.
Tobago Cays
Popular with visitors and sailors, the Tobago Cays? 5 deserted islets are a wildlife reserve protected by a horseshoe-shaped reef. To protect the delicate coral reefs, no fishing, dinghy anchoring or jet skis are permitted. Petit Rameau Island is a favorite destination for snorkeling. However, Horseshoe Reef is a large barrier reef which over time created Petit Rameau and Petit Bateau plus Baradel islands. This is my all-time favorite Caribbean snorkeling and scuba diving location, so bring that underwater camera, yes the one that costs $22. It is good for 10-15 feet and takes magnificent pictures. We found a small herd of red seahorses on the outer side of this barrier reef so keep an eye open. Everything is right here: squid, slipper lobster, spiny lobster, all the fish life, all those colored sponges, soft and hard corals are here in abundance. Try to remain here for 3 days; never will you forget this Horseshoe Reef. The islands protected by this Reef have small resorts on them, except Baradel.
There is only one way to get to this wonderful spot, and that is by water. When the Sun disappears over the horizon and the sky slowly changes from shades of orange to deep red, darker and darker, the first star seems magically appear, its not alone, as the sky deepens in color and the night approaches the sky fills with millions of stars, beautiful bright small specks. Too many to fathom, shooting star after shooting star, your mind wonders into its own world of happy thoughts and bewilderment. The sky illuminates and pierces the waters surface and if you peer over the side you can see the fish, sand and coral all by starlight.
The Tobago Cays offer some of the best snorkeling in the world, with the clearest waters in the Caribbean and the whitest beaches, these Cays are very difficult to sail away from.
Carriacou
Known as the "Land of Reefs", Carriacou boasts world-class snorkeling and diving on some of the Caribbean's most pristine reefs. One of my all-time favorite anchorages named, Tyrrel Bay, is magnificently protected but it also has a section which winds deep into the mangroves. One evening when we were there, we were enjoying happy hour drinks when suddenly around the corner of the entrance of Tyrrel Bay came a large police boat turning into the Bay at great speed. Wondered what we had done wrong. Are our flags right? Had we done something illegal? As this large yacht got closer to us, she turned slightly and went slowly into that deep section which disappeared into the mangroves. Now we could see a mast sticking out of the mangroves, so there was a yacht we had not noticed anchored well into the green vegetation. The large yacht almost disappeared down that section as well, then the police must have boarded the yacht anchored there. We could see nothing, just the tip of the back of the police boat. Wow, that was close for us. One hour later as it was getting dark, the police boat left and the yacht removed itself from that anchorage. We never did find out what transpired.
There is no shortage of food, drink, entertainment, historical attractions or cultural landmarks on this island of 13 square miles. In the village of Windward today, sailing boats are still built using the traditional methods handed down by the Scottish settlers. Carriacou has many untouched coral reefs; very few people get this low when compared to the out islands of the Caribbean chain. Many scuba divers have told me it is by far the best diving in the Caribbean.
Carriacou is the largest of the Grenadine Islands. Volcanic actions have created an interesting topography mainly of wooded hills, which rise up dramatically in places, and gives this Island it's irregular coastline. The many Coral reefs that surround the Island provide a strong base for the beautiful sandy beaches that scatter themselves on the fringes of this spectacular Island. There is a rich history and culture that has laid the foundation for the people of Carriacou. The Island offers interesting historical tours, small rum shops, easy beach combing/exploring and great views. The Island is off the beaten track and offers a welcomed break from most crowded tourist destinations. It offers a sublime retreat for those in search of a true Caribbean experience. Small multi colored wooden houses that lie restfully in the surrounding hills are bathed in the reflections of the strong turquoise waters. This picturesque setting creates a beautiful backdrop for any sunset.
Grenada
The nation of Grenada, discovered by Columbus, includes Carriacou Island, Ronde Island, Palm Island, Petit Martinique Island and other uninhabited islands in the sun. Grenada boasts roughly 100,000 folsk with St. Georges as the capital. There are so many great beaches and bays, but one stands above all of them, and that is Gran Anse Beach, considered one of the finest beaches in the world. This island has so many anchorages to enjoy. This is like all the other islands in the Caribbean chain, and Grenada is an island in paradise. Grenada is known as the Spice Island, as a major resource is cinnamon, ginger and nutmeg. Shipbuilding, fishing and fruit are all part of her industry as well.
Trinidad and Tobago
Both Trinidad and Tobago were discovered by Christopher Columbus on his third voyage in 1498. All other islands in the Caribbean chain rely on tourism. Trinidad has petroleum (petroleum gas) and related chemicals as her major resource, along with citrus farming and cocoa.  The only new musical instrument discovered in the 20th century, the steel drum, was discovered in Trinidad.
Barbados
Welcome to Barbados, 89 miles east of the main chain of Caribbean Windward Islands and some 1,600 miles southeast of Miami. Barbados is a coral atoll and relatively flat compared to most of the neighboring Windward Islands that are volcanic. The island is 21 miles long by 14 miles wide (166 square miles) with plenty of white powder footprint-free beaches. Barbados seems to be a little out of the way, but the problem is that you have to sail across 100 miles of open ocean passage, which is never recommended, unless you have to. If you have to get to Barbados, then fly. 110 miles by water is a long way and you are not protected; there are no islands to shoot behind if a heavy squall catches you. Let?s rather have fun sailing in the sun and explore the islands when it is overcast or raining.