Sailing Vacations in the Leeward Islands
The Leeward Islands, named the Renaissance Islands by Chris Doyle
St Martin; St. Bart's; Saba; Saint Eustatius; St. Christopher; Nevis; Montserrat; Antigua; Barbuda; Guadeloupe; Marie Galante; Iles Des Saintes; Dominica.
St. Martin:
St. Martin is divided into two distinct countries: one side is Dutch and the other side is French.  The only aspect the French side does not have is the Eiffel Tower.
Phillipsburg on the Dutch side has all the casinos for gambling. The most popular anchorage is Simpson Bay, but there is a bridge you need to wait to open. The bridge is for cars which pass over, so there are certain times for the bridge to open when all the yachts can go in and out.  Simpson Bay has everything around the bay: chandleries, hotels, bars, restaurants and access to those casinos. Popular anchorages are Oyster Pond, with my favorite bar. Captain Oliver's bar has always been a sailor's happy hunting ground watering hole where sailors speak with jovial forked tongue. Orient Bay has a nudist section where they also allow folks with swimsuits, so walk through this ?clothing optional? beach and see how the other half suntan. There is a large bar, so pop in for a drink; no one has clothes except us. It is different. The anchorage is pretty, as are the beach and the people.
Opposite Orient Bay is Ile Pinel. This to me is a great overnight stop; it has all the beaches, clear snorkeling water, coconut palms, and it is quiet. Just off the island of St Martin is the island of Tintemarre, a small uninhabited island where those pretty island birds hang around to pinch sugar from picnic tables. Fun snorkeling can be had here, plus you know no one is anywhere near you at this quiet spot.
Anse Marcel is on the French side and a wonderful place to stop and explore; maybe have lunch at the French restaurant to feel that French touch. The buildings are painted in those soft pastel colors, linking them to that local touch, very pretty indeed. Then there is their hurricane-hole bay, which is deep and runs well into the mangroves for excellent protection. This protection provides great coverage for a handful of yachts. Marigot Bay has everything related to serving the sailor man and his yacht; this too is a sail yacht vacation paradise. Marigot Bay is a very large harbor with small marinas, bars, restaurants, hotels and other related services, but all are in French.  
A True Story
Captain Andrew Buys and Captain Gaile Buys: On a bright sunlit Saturday morning in 1990, we were quietly sailing back to Phillipsburg when I noticed a red racing can 1 mile or 2 set on the horizon. I should have taken more notice of this, but left it until Gaile picked it up and said it could not possibly be a racing can (a racing can is the term used for markers where sailing yachts racing have to turn around ) because there were no yachts racing!! Gaile said let's go and have a look at that. So off we went to investigate; we turned our vessel at right angles and away we went. As we got closer, we could see that it was two men standing on an upside down yacht with a blue hull. The red color we had seen was their life jackets. As we got closer, one man jumped into the water and desperately swam to us; he was shaking as we pulled him from the sea and his rings fell to the seabed 1 mile below. He began crying and thanking us between sobs. The other gentleman was more in control than the first one. He remained on his yacht until we could park next to him, and he climbed onboard, also very thankful.  We set up a tow rope to the nose of the upturned yacht and proceeded to tow them home to Phillipsburg. These two men were from a naval ship anchored in the Phillipsburg harbor and they had taken out a special 26-foot sailing yacht for the morning to have some fun onboard. While they were having fun on their sail, the yacht began to take on water until it toppled over, so the full sail was still open under water while we were towing them home. They had been on the hull for 4 hours, and in that time a power boat with a family onboard had seen them and come within 30 feet of them, then turned and disappeared. They were left to float further and further out to sea. The weaker gentleman was extremely desperate. He had wanted to swim ashore, but his wise buddy had kept him on the upturned yacht until Gaile had seen them and pushed us their way. When we picked them up, it was mid-afternoon. When we got them and their yacht back to the large naval ship, it was starting to get dark. We could not go faster than 1 mile per hour so it was slow going. Here were two such happy gentleman who were so very grateful to be rescued they must have thanked us 100 times in a few hours.
Ile Fouche
A small uninhabited island with a wonderful protected large anchorage, water sports above and below the water would be your main attraction here. I heard from a reliable source that, during World War II, a German U-boat surfaced in this protected harbor. What they were doing I do not know, but only a few days were spent here and then they were gone as fast as they appeared.  
Anguilla
Barnes Bay, Meads Bay and Road Harbor are the major anchorages here. Meads Bay is my favorite; you can anchor close to shore, take your tender to the shore and walk up to the restaurant on top of the cliff right next to your yacht and take pictures of your yacht below you at anchor. This is a wonderful spot to have happy hour, but get back to your tender before the sun goes down: sometimes there is a small wave which crashes on the beach, and you may get wet.  We did not get wet. Road Harbor is the capital, with a huge white beach and many restaurants and bars right on the beach. Little Bay is another Anguilla anchorage. Scrubb Island next door has one anchorage, depending on the size of your yacht. Prickly Pear Cays are a must, as is Dog Island for a day stop; water sports and snorkeling can be done here. Generally, the  captain will not anchor here overnight; there simply is not enough protection, except for a catamaran.
Saint Bartholomew or St. Bart's
Gustavia is difficult to imagine as a French island because it is so wonderfully different, with her small French high-end shops and restaurants lining the Main Street. Expect to see film stars and dignitaries mixing with us common people. Enjoying a French meal at one of these restaurants is a must. Jimmy Buffett celebrated his 20th year at one of the restaurants right here; his famous "Cheeseburger in Paradise" song was written in Gustavia. There are a few good fantastic beaches in St. Bart's and one or two topless corners as well. Anse du Colombier is a cozy beach bay anchorage and is a marine reserve, so spear fishing, jet skiing, water skiing and lobster catching are not allowed here. Moorings have been placed for yachts to pick up so they do not damage the coral. That international rich set is present on St. Bart's; after all, it is the playground of the rich and famous.  
St. Kitts
Here is a must-do island: lots to do on land and also underwater, with all water sports. Brimstone Hill is the largest attraction. There is a fort which was built to protect the island, the building of which went on for 100 years. A visit to the fort is a must. This strategic monument is well-placed high up and very close to the sea, so cannons could protect 180 degrees.
St. Kitts is also famous for her green-backed monkey, which is a Vervet monkey native to Africa and the green on the back is possibly green algae.  I have not been close enough to them to make identification. While at anchor one evening, we saw 4 Vervet monkeys, the green-backed monkey scavenging along the rocky shoreline, 2 adults and 2 small ones. We could not see the green on their backs at that distance either, but there are not many monkeys at other Caribbean islands, so there is no mistake what they were. White House Bay is where they were. Between 1710 and 1720, there was a craze with Navy officers: it was the ?in? thing to have a monkey sitting on your shoulder with a small chain to your belt. When this craze was over, they let the monkeys go on St. Kitts, and today they are a nuisance to the fruit farmers.
Going ashore at the capital, Basseterre, is a must, as it has a real old colonial feel to it with a marketplace for fresh food. There is a rather large well-known catamaran building plant here which is also interesting to see. Taking a taxi on a land tour can show you colonial buildings and restaurants, as well as sugar plantations of yesterday.
Nevis
The island of Nevis is well known for her Four Seasons Resort, which has everything vacationers can imagine. Taxi tours can show guests banana plantations, cotton fields, sugar plantations and their botanical gardens. There are not many anchorages on this island, so we pass and peek at Montserrat.
Montserrat
Montserrat to me is famous for her well-known song ?Day-0?  by Harry Belafonte. Mr. Belafonte was sitting at the one dock in Montserrat in 1953/4 when he noticed the banana farmers coming down the hill to bring their bunches of bananas to the marketplace. In those days, the yacht was the marketplace. The bananas would be counted, the farmers paid, the bananas put directly onto the slip and the bananas distributed to all the islands in the Caribbean chain. Here are some of the words I can remember? ?Daylight come and I want to go home, hey Mr. Tally man tally me bananas, Day-o?.  It is great to hear where these songs originated. Montserrat is now well known for her volcano, which has not quite stopped erupting, so many of the islanders have moved away.
Antigua: The West Indies
Antigua certainly has deep-rooted history. Lord Nelson was based here for a number of years, and the dockyard is still called Nelson's Dockyard. Those 20-foot long 16th century anchors can still be seen today; many of those cannons remain on display. Snorkeling off Charlotte Reef (on the inside), you will see a 20-footer in pristine condition. These remind us all of pirates, so there remains a pirate air about Antigua, with its many anchorages and coves, lovely beaches and crystal clear water. These are just perfect hideaways for adventurous folks to get lost in.
Mr. Vernon Nicholson sailed into English Harbor with his lovely wife Julie in 1947. Soon both established the now famous yacht charter company that is responsible for today's chartering in the Caribbean and elsewhere. We have enjoyed this industry since 1990. The Antigua National Parks Association keeps Nelson's Dockyard beautiful. Marketing from the Antigua government boasts 365 beaches, one for each day of the year, and they do have a good amount of beaches for yacht charters. When visiting Antigua, a walk through Nelson's Dockyard is a must; stopping at the museum is also something guests need to do. Antiguans are famous for their passion for the game of cricket and have built a wonderful cricket ground named the 'sticky Wicket?; this is a must-see for cricket lovers. This is a good tribute to the sport built by passionate cricketers.
Falmouth Harbor is next door to English Harbor and Nelson's Dockyard, so walk over to Falmouth past 3 nightclubs and a few restaurants, and you walk into the Falmouth Dockyard. Falmouth Harbor is believed to be the site of a volcano; the surrounding land looks as if it used to be where all the molten lava erupted from many years ago, and now it is a large harbor. Each year the yacht charter brokers of the world gather at Falmouth and English Harbors to stage one of the world's largest private crewed charter boat shows. We have not missed any one of these since 1990, and all of the world's largest and smallest yachts gather here to be viewed by the booking brokers. Falmouth Harbor now boasts a brand new hotel, the Antigua Yacht Club Hotel, and a great extended marina for those mega power yachts. Amenities include general yacht services, laundry facilities, internet facilities for yachtsmen, a new modern hotel, Lord Jim's locker, cruising guides, maps, courtesy flags, nautical books, boat builders, and two small coffee shops. Sailing Yacht Outfitters have parts for all yachts, supplies from all over the world. The annual boat show for charter brokers is normally a festive period, with all aspects of the yachting world attending. Locals set up one-man shops to cook chicken in different ways. These one-man shows dot the 200 yards from Falmouth Harbor to English Harbor; passersby can stop to have a special island snack.
Mongoose are all over the island. First introduced to eat rats and the odd snake, these wise animals now roam this island freely. During the sugar cane era, rats and a few snakes could be found, but today the mongoose is king. The islanders have not found a way to attend to their mongoose problem.
Shirley Heights: This is possibly the world's best view of any two harbors. Do not go to Shirley Heights without your camera; you will curse yourself if you have no camera. This view is used in many magazines, newspapers and other advertising material. I would say that this view in the Caribbean is the one and only view, which is used 4 times more than any other view to advertise the Caribbean chain of islands. ?Nah, I have been there? is what I have said in the past. An island steel band is normally the main attraction on a Sunday evening, so pop up there and enjoy a meal at Shirley Heights, Antigua. All sail yacht vacationers should end up in Shirley Heights sometime in their lifetime.
Green Island and Nonsuch Bay
Green Island is at the entrance of Nonsuch Bay. This whole area is very remote. Named after the president of Antigua, Green is a well-known Antigua family. Green Island is uninhabited, and many day sails commence at 9AM in English Harbor and sail to Green Island and back at 6PM.
Conch can be found grazing the grass; guests can then enjoy raw conch or cooked conch as well as take the shell home as a reminder of Antigua. Snorkeling the crystal clear water and sunbathing in this sailing yacht vacation paradise is what Green Island is all about, and it is in the middle of nowhere. Nonsuch Bay is a very out of the way eastern section of Antigua and named after the first yacht that discovered this bay in 1647. The name of that yacht was Nonsuch, and there are many anchorages to select from to have fun in.
Indian Creek
Another uninhabited anchorage to explore, after this anchorage you will feel you would like to be in the hustle and bustle of New York City just to get back to normal.
Barbuda is flat (we can call it a sand bar), but Barbuda is in fact a coral atoll and the second of only 2 coral atolls in the entire Caribbean chain of islands; the rest are volcanic islands. Barbuda can be very tricky to get to, with poor charts to navigate to, but well worth the trip. There is a 2- mile soft white beach and not a soul on the beach during the summer months. Winter has the Palmetto Point Hotel full of folks who wish to get away from the heavy crowds. This is the Palmetto Point side of Barbuda. The opposite side of the island would find the small village of Codrington. This is where the inhabitants live all 1,600 of them.  The beaches are so white that, when the sea water runs up them, the color turns to a soft pink and there is no one around.  A great frigate colony can be found here; some deer can be found roaming wild. Frigate birds generally fly all day; if they land, they have to be sure that they can just drop down into flight since their legs are too small for takeoff. It is very seldom to see frigate birds at roost or sitting anywhere. Sailing yacht vacations bring you close to these colonies of 7-foot wingspanned birds.
Guadeloupe: Butterfly Island
Guadeloupe is a very French island, but the quality of food and wines is wonderful. Named the Butterfly Island because she looks like a butterfly separated by a shallow 5-foot dark black river called the River Salee, the color of this river is from the roots of the mangroves on land. It is strange to motor from the crystal clear sea into this dark river, where seeing the sand bed below is impossible and it is only 5 feet deep. In the River Salee is a small island full of white tick birds; some have red marks on their bodies which were most interesting. I later found out that those marked birds were marked when they were young so that they could identify how far and wide they went from this French island. There were other colors used for other islands in the Caribbean so they would know which birds were flying to which islands. It was a wonderful delight to cruise the River Salee with her black water. As we eased into the sea again, the water soon turned to crystal clear and a soft turquoise. A great waterfall can be found in the green hills of Basse Terre; the Carbet Waterfalls are possibly the highest waterfalls in the entire Caribbean chain and well worth the effort to get there.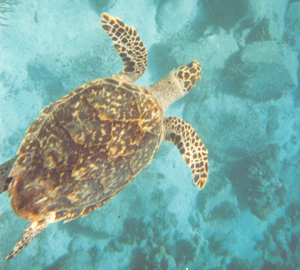 The Saintes are small towering islands with two large forts on top of 2 distinct islands. These are must-see island forts, so rent a scooter and ride to Napoleon's Fort. This cluster of volcanic islands is 17 miles away from Guadeloupe, a nice easy sail for that passionate sailor and sailorette. These islands are small and very steep from the ocean's surface, providing views that remain etched in your mind forever. There is also a small nude beach, which is tucked away.  French is spoken with a smattering of English. These are perfect waters for catamaran charters and crewed staff who know the history of these islands. Ile de Saintes were my favorite Leeward Islands, so make a point of seeing them and enjoying the beauty they have to offer.